Are med spas profitable? Yes, the medical spa sector is highly lucrative. But is your med spa business generating the high profits you expect it to? If not, you're not alone. Even some of the best medical and beauty professionals who know how to deliver the best medical and cosmetic treatments are just as clueless about the profitability aspect of their business. However, running a lucrative med spa business doesn't have to be difficult nor does it have to be time consuming.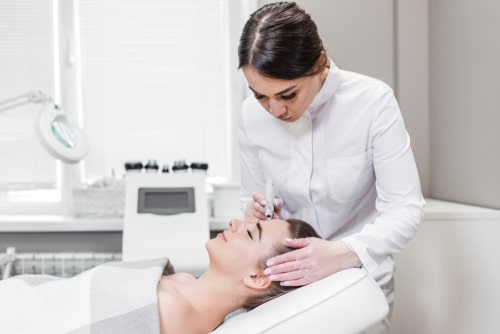 How to Make your Medical Spa Business Profitable?
If you're not drawing a high profit from your med spa business, it's time to implement some simple but effective changes. Here are 6 ways to increase your medical spa profitability:
1. Elevate the Spa-Like Ambience
When running an aesthetic or medical spa business, focusing on the medical aspect of treatments is no doubt necessary to offer your clients the desired results. However if you're not delivering on the feel-good spa factor, then you're probably unable to charge a handsome amount for your services and neither are you drawing adequate crowds to your business.

Inarguably clients enjoy the bells and whistles of spa offerings more than even the results they bring! They come to a spa to feel pampered and also enjoy the relaxing environment it offers. A spic and span facility, with its beautiful ambience, creates a luxurious setting which elevates the client experience. Naturally customers are willing to pay for it! Are you delivering the spa-like ambience and amenities? Revamp your space to create a welcoming spa-like environment for your clients from the moment they enter. And revise your menu and prices to account for the value-added services! Other value-added offerings could be a membership subscription or a VIP program. Immediate benefits include a steady flow of income while providing your most important clients a sense of belonging and complete satisfaction.
2. Make Optimum Use of the Space
It's likely that you have learned a lot about your business since it first opened. There are services that are always in demand while others are rarely used. As a result, some service areas are always overbooked while others remain under-utilized for the majority of the year.

So why not make good use of the entire facility year-round? Redesign your space to adapt the under-utilized areas for multi-functional use. While you're repurposing your space, don't forget the dead corners or lobbies that are not being used for the intended reason. In this manner, you can make optimum use of your space for services that enjoy a huge demand. It may require some amount of capital, but it's an investment that could yield high returns.
3. Offer Upgrades
Offering your clients upgrades is the easiest way to increase business and in turn your med spa profits. Add service upgrades that complement your most popular services. But just incorporating upgrades may not be enough. Incentivizing your staff adequately to sell service upgrades will motivate them to recommend them to clients. Having a spa management software solution to properly track commision-based pay entices staff to continue upselling at every opportunity.
4. Revise your Menu
Is your menu overcrowded? Are you offering too many services that yield low profits, impacting your medical spa profit margins? Then consider simplifying your offerings by presenting more high-end specialty or the most profitable spa services and products. Factor the total costs and returns for each service to evaluate its profitability. If you're offering services that expend a lot of time and effort but generate less revenue, it's time to revamp these services to increase their value. Either eliminate low-value services or modify them in a way that adds more value to your clients and enables you to charge more for them.
5. Make Financial Assessments
If you have a high amount of capital tied up in a huge stockpile of inventory or unused equipment, it is dead capital that's lowering your business' profitability. Strategize your operations to cut down on inventory without impacting spa operations. It would also help you reduce wastage, spoilage, and theft. Stock up on your most popular products and minimize the other types of inventory. In addition, check for other areas where there is scope for reducing expenses. It's time to avoid unnecessary expenditures that don't add value to your spa offerings if you want to elevate your med spa profits.
6. Use an Efficient Med Spa Software
Whether it is optimizing your business' profitability or running it in a time and cost efficient manner or any other goal, the right software can help you achieve it. AestheticsPro Medical Spa software helps streamline your operations and includes superior E-Records management, client management, online booking, and many other vital functions at the click of a button. In addition, it offers easy reporting and insights that can help you make strategic decisions.

For those looking to increase their medical spa profit margin, AestheticsPro takes a lot of the guesswork out of enhancing the customer experience while also helping to pad your bottom line. It's an all-in-one medical spa software package designed explicitly for medical spas, not some kind of generic, out-of-the-box solution that might do a lot but nothing particularly well.

AestheticsPro makes managing and growing your medical spa easier and more straightforward than just about anything else because it rolls up a lot of common med spa pain points under one convenient dashboard. And when you can do more in less time, that means saving money while improving your processes and gaining efficiencies.

The best part is that this competitive edge also helps you better manage your clients' records, as well as making booking and scheduling a cinch -- say hello to the cloud! -- which means that you and your staff will spend less time on tedious manual tasks that can be offloaded to the power of automation.

By partnering with the right software program, you can empower your clients to self-serve, automate important tasks, and use your reclaimed time for doing what you do best!

AestheticsPro was built from the ground up to serve the med spa industry. You can rest assured that all your records are protected according to the highest internet security standards. In fact, our entire platform is HIPAA cloud compliant.

That said, we understand that not all med spas are created equal. That's why AestheticsPro is powerful and customizable enough to suit the needs of just about any medical spa. Moreover, we can design an implementation strategy that aligns with your business goals.

Our professional and knowledgeable staff will first understand your goals and help you drive maximum value for both your business and customers. To see our software in action, Get the Demo today!